Service Features
Planning the perfect booth. Designs connected directly to business performance.
We at Mega Create have built up an extensive portfolio in commercial space design and possess the knowledge and expertise required for constructing exposition booths. Each year various expositions are held throughout Japan. As the venue layout, visitor traffic, and decorative tastes differ each time, it is essential to avoid preconceptions and have an optimal plan based on past projects and experience. By fully harnessing the know-how we have built up in the field of commercial spaces as well as our portfolio of booth plans for a diverse array of industries, we can provide optimum booth proposals that match the current trends of your industry and offer support which directly produces results for your business.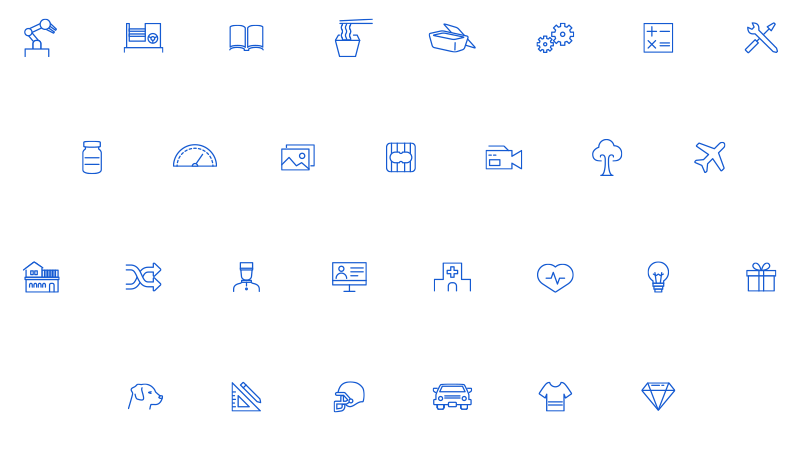 Please consult us on your booth regardless of its size! 1 to 3 spaces, 4 to 6 spaces, 7 or more spaces, 10 or more spaces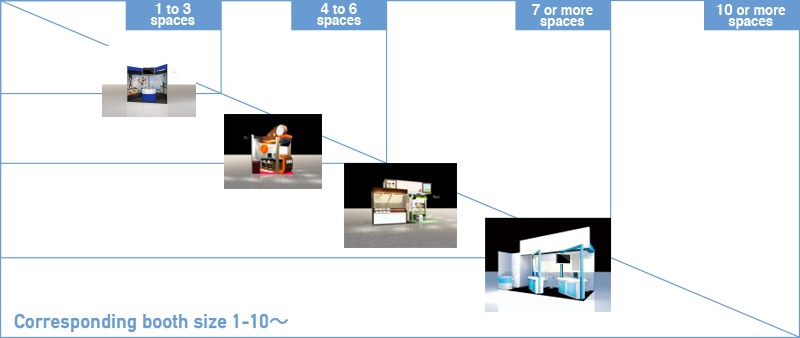 Monodzukuri Fair / INTERMOLD / Japan Metal Stamping Technology Exhibition / MF-Tokyo / Japan International Welding Show /JIMTOF / IGAS / FOOMAJAPAN / Food Development Exhibition / JAPANPACK / Logis-Tech Tokyo / Highly-functional Material World /IPFJapan / nanotech / TECHNO-FRONTIER / M-Tech / INCHEMTOKYO /Deisgn Engineering and Manufacturing Solutions EXPO / EVJAPAN / CAR-ELE JAPAN Int'l Automotive Electronics Technology Expo / EVEX / INTERPHEX JAPAN / ICSEJapan / CPhlJapan /COSME Tech / JASIS / VACUUM / POWTEX TOKYO / PAN-EXHIBITION FOR WASH AND CLEAN / JIMA / Optics EXPO / Photonix / InterOpto / OPIE / INTERNEPCON JAPAN / JPCAShow /CEATECJAPAN / Microwave Workshops & Exhibition / SEMICONJapan / Fiber Optics Expo / loT/M2M EXPO / SMARTPHONE & MOBILE EXPO / WEARABLE EXPO / Web & DIGITAL MARKETING EXPO / DATA CENTER EXPO / CallCenter/CRM Demo & Conference / Interlop / ENEX / World Smart Energy Week / PVEXPO / NEW Environmental Exposition / SEAJAPAN / Japan Home & Building Show / JAPANSHOP / RETAILTECH JAPAN / Japan Drugstore Show / HCJ / SIGN & DISPLAY SHOW / Medical Device Development EXPO MEDIX / [Hospital + Innovation] Expo Japan / MEDTECJapan / International Modern Hospital Show / HOSPEX / Nursing EXPO / Beautyworld Japan / Beauty Show / HEALTH & FITNESS JAPAN / DIET & BEAUTY FAIR / Int. Home Care & Rehabilitation Exhibition, COSME TOKYO / SECURITYSHOW / RISCON TOKYO / Plumbing Machinery and Equipment Exhibition / HVAC&R JAPAN / (Osaka International) Gift Show / PROMOTIONAL GOODS EXPO / (International Premium) Incentive Show / Interpets,DIYHOMECENTERSHOW / Educational IT Solutions Expo / ISOT / SPORTEC / MOTORCYCLE SHOW / International Fashion Fair / International Jewelery Tokyo
We promise to construct the ultimate booths for our clients.
Participating in an exposition offers an important opportunity for clients to increase the value of their connections and interactions among others within their market. We consider the exhibition objectives of our clients our own and, thoroughly addressing a number of client demands, promise to provide a proposal for the best booth plan available.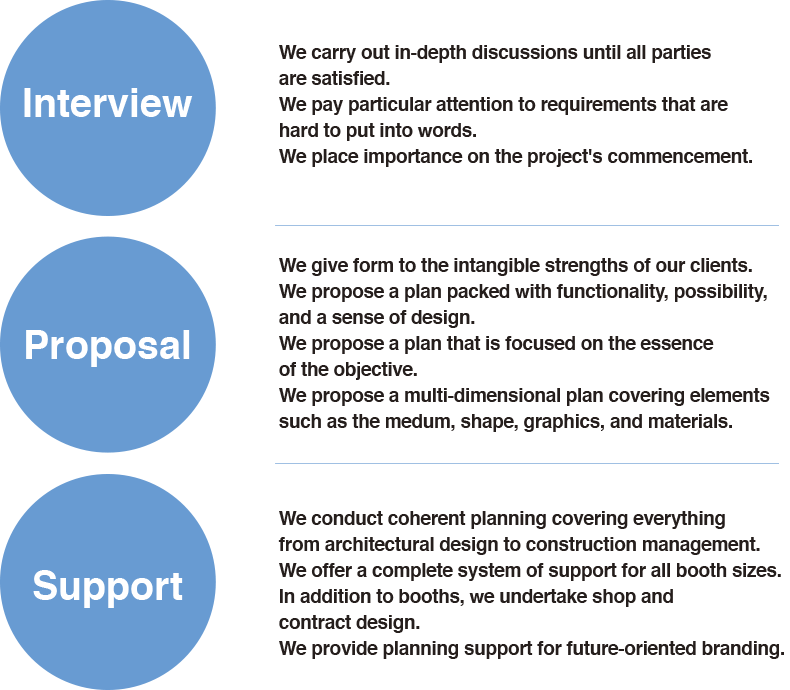 A checklist for success compiled through years of onsite experience!
For clients with little or no experience in putting an original booth into an exhibition, it may be unclear just what options are available and what standards should be followed when setting up your booth. We have established a checklist to ensure that nothing goes wrong onsite and employ a comprehensive system so that your exhibition will be a success.
Important points to consider when building a booth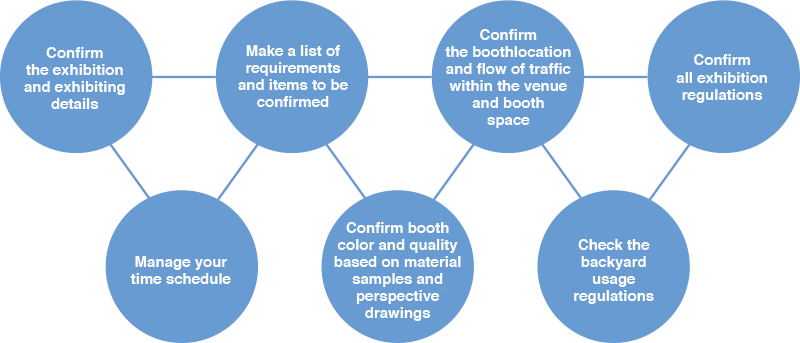 Why businesses select us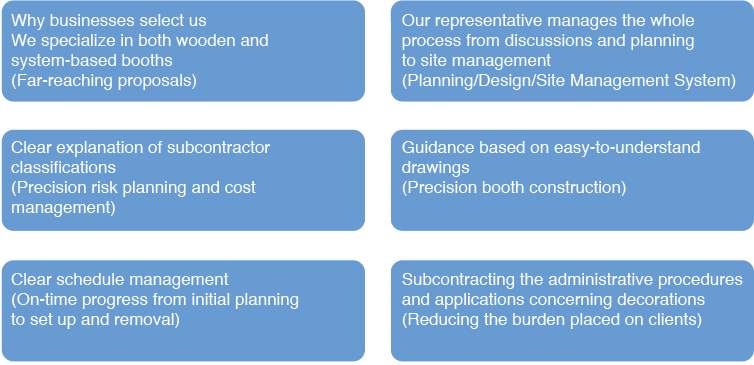 Eliminating a lack of preparation and ambiguity is the first step to success in booth construction. Let's work together to create an ideal space from the ground up!