Space Production Department
NEWS
2017/06/13

2017/06/07

2017/05/31

2017/05/24

2017/03/27

2017/03/01

We renewed our homepage.

2016/12/09

2016/12/03

2016/10/30
Service Features
Restaurants/Commercial facilitiesCreating urban heroes.
Breathing life into commercial space design.
Today, shops and facilities must offer a unique identity to create an impression unlike anywhere else. We at Mega Create deliver the ultimate in creative work to help realize the spaces envisioned by each property owner. Our Space Production Department executes design and construction that will leave customers in comfort and wanting to come back for more. Whether through richly expressive exteriors or interiors offering a unique and new discovery with each visit, we constantly work to create facilities that place importance on how each feature is highlighted.
Amusement facilitiesPromoting shop visits.
Building the most successful shop in the region.
One more role of our Space Production Department is to present facility designs based on clear-cut concepts that not only take the customer's perspective into consideration but also achieve the goals of the property owner. We address the issues of the owner while considering the ideas and thoughts that are necessary to create a prosperous business. The project team is composed of planning and design operatives who carry out onsite surveys as well as research competing shops to propose a design that will increase shop visits and boost the facility's identity. The team works to design facility layouts that secure ease of movement and increased visibility, while setting up spaces for pachinko, slots, and exchanging prizes. Using new ideas in quality space production, we offer support so you can create "the most successful shop in the region".
Mega Create provides total support in commercial space design.
Employing our professional experience, we offer the best solutions to the challenges facing business owners, such as space concept design, type and scale of store to be created, and availability of land for setting up their store. Our specialists systematically respond to our clients' requests in order to realize their requirements without overlooking a thing.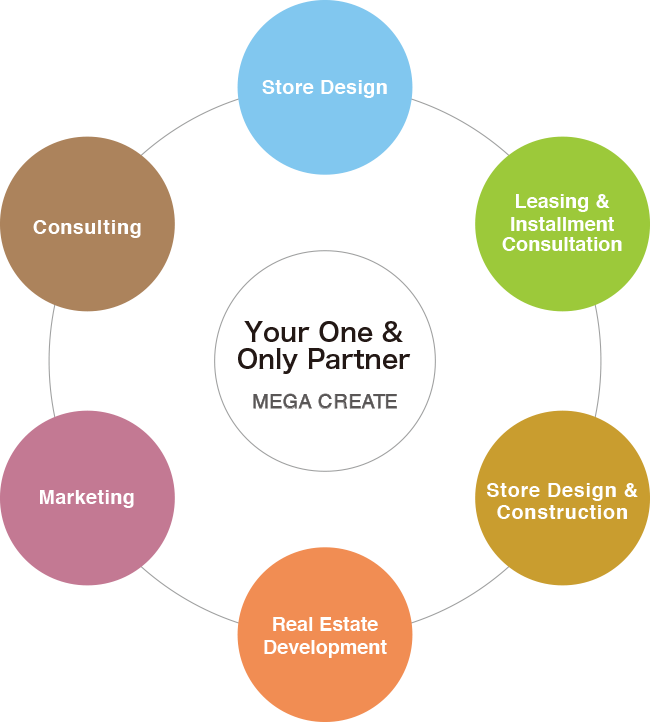 We can support any type of facility.
From restaurants and commercial facilities to medical facilities and more, we have experience in proposing the ideal space design for the store you desire, regardless of your industry.